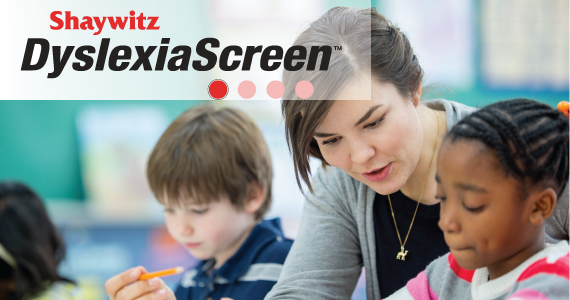 The federal First Step Act legislation defines "a dyslexia screening program means a screening program for dyslexia that is (A) evidence-based with proven psychometrics for validity; (B) efficient and low-cost; and (C) readily available." And those characteristics precisely describe the Shaywitz DyslexiaScreen™.
The Shaywitz DyslexiaScreen™ is an efficient, reliable, and user-friendly universal screening measure for K-3 students who may be at risk for dyslexia. Dr. Sally Shaywitz created this unique evidence-based screening tool. It emphasizes phonological, linguistic, and academic performance based on classroom teacher observations, all in just a few minutes per student — unlike other measures which take up precious instructional time.
The classroom teacher, the person who has worked most closely with the student and knows the student best, rates statements about a student's language and academic behaviors based on the frequency of the student's demonstration of each behavior. The rating results produce an individual and/or group reports. Results for a particular student include a simple classification of "At Risk for Dyslexia" or "Not At Risk for Dyslexia."
The Screener is easy to use, quick, and reliable.
Identifies Kindergarten through Grade 3 children at risk for dyslexia
Screens individuals or groups
Friendly teacher-administered rating scale
Digital administration, scoring, and reporting
The Screener has excellent psychometric strength — it is reliable and accurate.
The Screener items were developed and normed as part of the Connecticut Longitudinal Study (CLS) begun by Dr. Shaywitz in 1983. Dr. Shaywitz continues to follow over 80% of the subjects in the Study. In addition, Pearson contributed by carrying out national validity studies in 2016 and 2017. The CLS collected data on a reference group with dyslexia as well as typically developing students. This dyslexic group is critical for the screener to be considered a dyslexia screener.
The Screener was developed to sort students, as early as Kindergarten, into two groups quickly, efficiently, and effectively — those at risk for dyslexia and those not at risk.
The sample of students has been followed prospectively and longitudinally from school entry into adulthood for the purpose of studying reading development, including the factors that may positively and negatively influence the development of reading.
A significant finding of the study indicated achievement gaps between students with and without dyslexia are evident in Grade 1 and persist into adolescence, providing a strong, evidence-based rationale for identifying at-risk children and intervening as early as possible.
Waiting to identify students at risk for dyslexia has far-reaching consequences both academically and behaviorally — consequences that can affect the student's long-term success in school and in life. Recognizing these long-term effects, many schools, districts, and states are implementing plans to screen young children sooner. We are delighted with the very many positive responses we are receiving about the screener from grateful educators and parents around the country.
For instance, we heard from Aimee Barnard, Program Manager and School Psychologist with the Empire Union School District, who said: "The Shaywitz Dyslexia Screen has become our Universal Screening for all Kindergarten through 3rd grade students in our district. This has allowed us to identify students at risk at an early age and provide intervention. Our teachers are excited for this new step in our district as it could drastically change what their classrooms look like in the future. We are not waiting for kids to fail, instead we are addressing their needs early and allowing them to thrive with the proper intervention. Thank you for helping us help our students!"
It's wonderful to hear these stories. Please share yours with us!
Scroll to Top