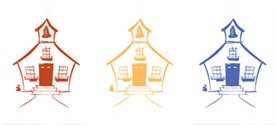 (Modified from Overcoming Dyslexia by Sally Shaywitz, M.D.)
If you have the luxury of being able to select a school for your dyslexic child, know that there are still questions to ask and considerations to make when you approach the school. First, if you suspect dyslexia, but haven't had your child tested, an evaluation can be essential to asking the right questions and finding the best school for your child.
Of course, there is no one perfect school environment that will suit every child with a reading problem and his or her family. The perfect school does not exist. The key to selecting a school is to determine which school's profile best matches you and your child's priorities at a particular point in time. And your priorities will change as your child goes through school.
The steps and questions below will help guide you through the process of selecting a school and will also give insight to the range of possible programs and services that a school could potentially offer to your child.
The biggest question: does the school and its educators use the word dyslexia, and how familiar are they with dyslexia?

Ask as many people as you can about the school, particularly parents whose children are attending or are graduates of the school.
Visit the school, and ask yourself:

What is the overall environment like?
Do the children seem happy?
Is there a sense of orderliness?
Are the teachers and administrators open and friendly, and do they welcome questions?
How large are the classes?

Find out how the school views itself and what experience and policies it has regarding children with learning disabilities.
Observe several classes in session.
Learn about the students who attend the school.
Learn about the school's academic curriculum and its reading program.
Find out about the school's attitude toward providing accommodations, such as extra time on tests.
Ask about opportunities they offer for students to demonstrate knowledge without written assessments.
Can children use electronic devices, ipads, Livescribe, or computers in class for note-taking, etc.?
Learn about the faculty:

How available are they for students who require extra help?
Do they have on-campus tutoring available?
How long have the teachers typically been at the school?
How are parents kept informed about their child's progress?
Learn about what extracurricular activities are offered.
In the final analysis, weigh all the factors, but also value your gut feeling. Your overall impression of the school is important and may provide a clue about intangibles that are difficult to characterize but may be extremely meaningful to you and your child. Schools can look very good on paper, but somehow not have the parts come together in a satisfactory way. Trust your instincts.
If you don't have the opportunity to choose a school for your child, here are some suggestions for advocating for your child's education and communicating with the school.
Scroll to Top