YCDC Launches a Public Service Awareness Campaign
The Yale Center for Dyslexia & Creativity Launches a Public Service Awareness Campaign to Build Awareness and Support for Dyslexia, Students and Educators
Yale physician-scientists Drs. Bennett & Sally Shaywitz collaborate with Academy Award-winning film director Roger Ross Williams to create an innovative, educational dyslexia-awareness campaign for teachers, featuring Atlanta entrepreneur Patrick Whaley and educator Wanda Bennewitz.
Atlanta, Ga. – April 2, 2015 …… Drs. Sally & Bennett Shaywitz, Co-Directors of the Yale Center for Dyslexia & Creativity (YCDC), in collaboration with Academy Award-winning film director Roger Ross Williams, have created a public service announcement (PSA) to increase dyslexia awareness and support education. The campaign, "A Letter to My Teacher," is targeted toward teachers, as educators have the powerful initial opportunity to identify and intervene with students who are dyslexic and struggling to read; however, it can benefit all viewers. Dyslexia is highly prevalent, affecting 1 out of every 5 children and adults. It is universal, and crosses racial, ethnic and socioeconomic lines; and, with proper identification, evidence-based instruction and accommodations, dyslexic students can thrive. However, the diagnosis and treatment of dyslexia remain elusive in public schools, and even more so in urban school populations comprising African-American and Latino communities. Children with dyslexia who labor to read and who do not understand the nature of their difficulties and cannot fathom that they are intelligent are marginalized and left to flounder and ultimately risk falling completely through the cracks, dropping out of school and facing dismal futures. With proper identification and intervention, this is preventable, with students going on to have their lives defined by their excellent thinking and reasoning skills.
Beginning in April, "A Letter to My Teacher" can be viewed on cable TV, YouTube and various digital platforms, providing viewers a look at dyslexia and direction to the Yale Center for Dyslexia & Creativity's website for more information. The PSAs will also be housed on the YCDC website, YouTube and distributed digitally. The Yale Center for Dyslexia & Creativity has created a robust website offering scientifically supported, evidence-based information on dyslexia at www.dyslexia.yale.edu that is available globally and free of any charge. Plans are also underway for Dr. Shaywitz to keynote a public awareness event in Spring 2015 for public school teachers to further increase understanding of dyslexia. The talk will take place in Atlanta and will be made available to educators across the country through video chat.
YCDC Co-Directors, physician-scientists and elected members of the Institute of Medicine of the National Academy of Sciences, Drs. Bennett and Sally Shaywitz are internationally recognized experts on reading and dyslexia. Bennett Shaywitz, M.D., is a leader in the neurobiology of dyslexia, especially the application of functional brain imaging that for the first time has made dyslexia—a hidden disability—visible. The research of Sally Shaywitz, M.D., provides the basic framework: conceptual model, epidemiology and neurobiology for the scientific study of reading and dyslexia. Together, the Drs. Shaywitz are passionate advocates for the translation of scientific findings into policy and practice. They originated the widely accepted Sea of Strengths model of dyslexia that emphasizes the strengths seen in people with dyslexia. Dr. Sally Shaywitz is also the author of Overcoming Dyslexia: A New and Complete Science-Based Program for Reading Problems at Any Level which is the most comprehensive guide to assist educators and parents in understanding and overcoming reading problems. In her book, Dr. Shaywitz wrote "Dyslexics think differently. They are intuitive and excel at problem solving, seeing the big picture, and simplifying. They feast on visualizing, abstract thinking, and thinking out of the box. They are poor rote reciters but inspired visionaries. Adult dyslexics are tough: having struggled, they are used to adversity; hard work and perseverance now come naturally. Having experienced failure, they are fearless, undaunted by setbacks…. In dyslexia an encapsulated weakness in decoding is surrounded by a sea of strengths." Dr. Shaywitz emphasizes, "It is imperative that dyslexia be identified in children so that the weakness may be remediated and the strengths acknowledged, accessed and nurtured."
In 2013 the Yale Center for Dyslexia & Creativity and Drs. Bennett and Sally Shaywitz launched a Multicultural Dyslexia Awareness Initiative (MDAI) to increase the awareness of dyslexia in African-American and Latino communities. The five-city tour partnered with educational, legislative and grass-roots organizations in Washington, D.C.; Atlanta, Ga.; Houston, Tex.; Cleveland, Ohio; and San Francisco, Cal., to educate communities about dyslexia and the achievement gap. At the end of the MDAI town-hall tour, Dr. Shaywitz concluded that there remained an unacceptable and harmful lack of awareness about dyslexia. However, the lack of information was not only in minority communities, but in all communities. Dr. Shaywitz immediately embarked on a mission to increase the awareness of dyslexia and to translate scientific knowledge about dyslexia into action, beginning with sharing evidence-based information with educators, parents and the general public through the creation of an innovative dyslexia-awareness campaign, anchored by public service announcements. In Dr. Shaywitz's congressional testimony on the science of dyslexia, she emphasized that scientific understanding of dyslexia has progressed so that we have the knowledge to do better. Today, rather than a knowledge gap, we have an action gap. We can do better, we must do better.
To create the PSA, Dr. Shaywitz engaged film director Roger Ross Williams. Williams independently overcame dyslexia to graduate from New York University's Tisch School of the Arts film school and became the first African-American to win an Academy Award for Best Documentary Short Subject for the documentary "Music By Prudence." Williams created the PSA in a short-film format and sought real-life people to illustrate the strengths and struggles of dyslexia. He found metro-Atlanta entrepreneur Patrick Whaley, who was diagnosed with dyslexia in middle school, and his 6th-grade teacher, Mrs. Wanda Bennewitz, to feature in the PSA, with Dr. Sally Shaywitz providing expert commentary and direction for viewers. "A Letter to My Teacher" illustrates the journey of a dyslexic student who graduates from a top engineering university, becomes a successful CEO and reflects upon the efforts of his teacher to intervene in his academic difficulties and identify his dyslexia. Mrs. Wanda Bennewitz, the recipient of the thank-you letter and Patrick's actual teacher, realized that Patrick was dyslexic and initiated steps toward remediating his dyslexia. Patrick is currently the CEO of TITIN, a weighted compressions gear system, which he recently presented on Shark Tank and which resulted in a deal with dyslexic entrepreneur Daymond John.
The PSA was filmed in an actual working classroom with period chalkboards at Spelman College in Atlanta, Georgia. The college classroom in Spelman's Education Studies department was transformed into a 1990's-styled 6th-grade classroom under the direction of Spelman Assistant Professor of Education Studies Dr. Nicole Taylor. For the past year, Dr. Taylor and Spelman College have been working closely with the Yale Center for Dyslexia & Creativity to align their educational curriculum to include all aspects of dyslexia, enabling Spelman's student teachers to identify and understand dyslexia upon entry into classrooms as first-year teachers.
# # # #
The Yale Center for Dyslexia & Creativity serves as a nexus for research on dyslexia, and for translating scientific progress into policy and practice. The overarching goal of the Center is to better the lives of people with dyslexia. The mission is to uncover and illuminate the strengths of those with dyslexia, disseminate the latest innovations from scientific research, provide practical advice to individuals with dyslexia, and ultimately transform the treatment of children and adults with dyslexia so that each may reach his/her potential and dare to dream of a happy future.
For more information about the Yale Center for Dyslexia & Creativity, Dr. Bennett and Sally Shaywitz, Roger Ross Williams, and Patrick Whaley, visit: dyslexia.yale.edu
"A Letter to My Teacher"
Created by Drs. Bennett & Sally Shaywitz, Co-Directors of the Yale Center for Dyslexia & Creativity and Featuring Patrick Whaley and Wanda Bennewitz
Director: Roger Ross Williams
Producer: Jennifer Brunetti
To View: www.dyslexia.yale.edu/PSA2015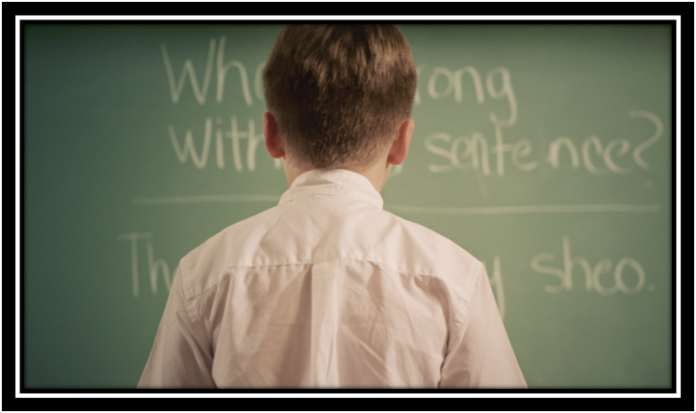 Related
Young Readers with Dyslexia Will be Identified Sooner and Receive Interventions and Accommodations Needed to Succeed in School …
Read More
Scroll to Top