"Decoding Dyslexia Goes to D.C." by Kaden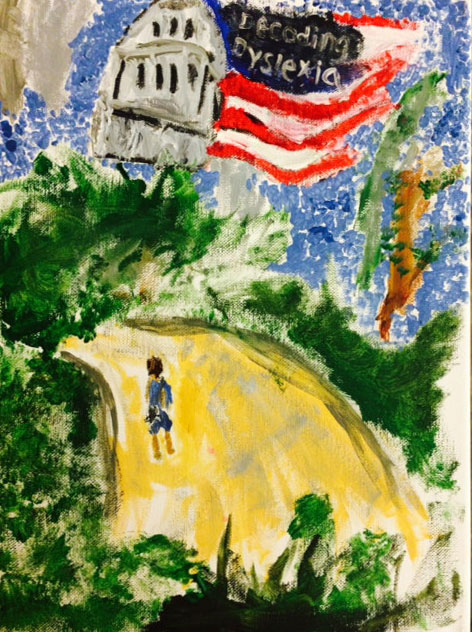 "Decoding Dyslexia Goes to D.C."
Upon returning home from Decoding Dyslexia's gathering in Washington, D.C., budding artist Kaden was inspired to paint a picture of his experience advocating for himself and other dyslexic young people on Capitol Hill. He entitled the painting, "Decoding Dyslexia Goes to D.C." His painting is done in acrylic and has traveled to San Diego, where it was accepted and displayed in a youth art exhibit.
One of the things that Kaden's mom, Jody, wanted for him as they planned this D.C. trip was for Kaden to feel empowered. She wanted him to see that "there were so many voices behind this (dyslexia movement), and it wasn't just his crazy mom that's up until two in the morning doing stuff for him to succeed. I wanted to show him that there are other kids just like him, and for him to really go and talk with our representatives, and to be that voice for the kids in West Virginia. I didn't realize that so close to D.C., you have families…with no voice and in poverty. And so if teachers aren't those kids' voices then nobody is."
Kaden is one of the lucky ones: his mom works with him to have a voice, self-esteem, and to capitalize on his talents to get through school and life. For instance, Kaden uses his art to do his schoolwork. "I use more pictures and stuff," he says. "Like if I bake waffles I ask my mom to read it and I would draw it down and use the recipes in pictures."
Jody snapped this photo of Kaden as he approached the Capitol. Kaden used it for the model of his painting.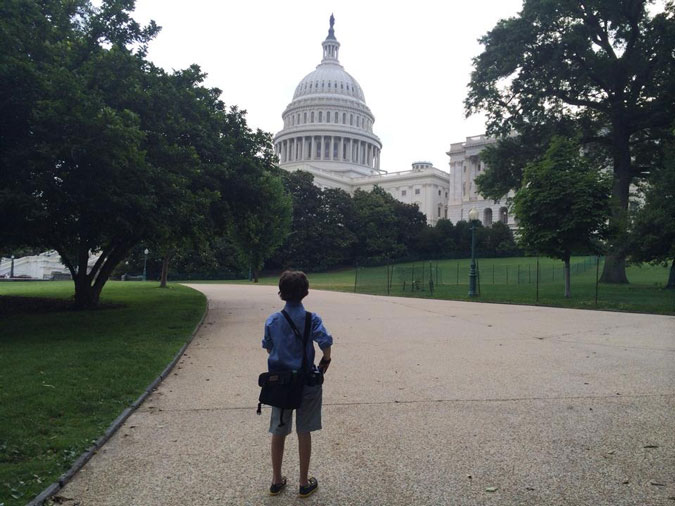 Scroll to Top