A Supportive School Made All the Difference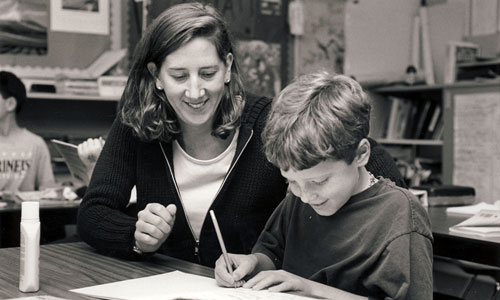 Dylan in school, getting help from Katherine (Perrine) Austin. Photo Credit: Richard Wheeler
What Happens When a School and Its Teachers Provide a Supportive Environment for Dyslexics
In a speech for his eighth grade graduation from Marin Country Day School (MCDS), a K-8 school, Dylan recalls a community that supported one dyslexic with encouragement and helpful interventions.
Dylan was one of three students selected to speak that year, based on an essay he wrote in English class.  Dylan's essay focused on the Middle School years.  Writing a speech and speaking it in front of 1,500 people are substantial challenges for anyone, but present an even more daunting challenge for someone with dyslexia.  Yet the teachers Dylan worked with were confident and helped prepare him.  However, no one was prepared for what he pulled off that day.
He made the crowd wish they were dyslexic also.
Excerpts from a Graduation Speech
by Dylan Redford
---
Looking back at my middle-school years, I realize that compassion and acceptance define so many of my memories.  From my teachers to my fellow students, all three years were kind to me in many ways.
There were a lot of examples of acceptance in the Middle School.  One Halloween, Jack showed up as Captain Underpants—in underpants.  For the fifth grade trials, Max arrived with his hair slicked back in a three-piece suit.  Our classmates laughed, but with them, not at them.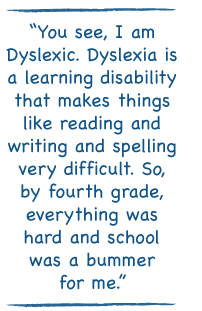 Of course, the Middle School teachers were responsible for a lot of this compassion.  In third grade, Katherine (Perrine) Austin was the center of my universe.  She was a great teacher: funny and even-tempered.  She made everyone in the room feel like they were her favorite student.  Of course I thought I was the favorite favorite.  One day, I wrote a note to her, saying that she was the best teacher ever.  And just as I was building up the courage to give it to her, she took me outside to meet a special visitor—her fiancé.  I was crushed.  How could she do this to me?  After all we had been through together?
Well, I moved on to fourth grade, where my teacher Lori Piser had a very important role to play in my school life.  You see, I am dyslexic.  Dyslexia is a learning disability that makes things like reading and writing and spelling very difficult.  So, by fourth grade, everything was hard and school was a bummer for me.  It got so bad that my parents and teachers started to wonder if I should stay at MCDS.  Diane Snelling, the learning specialist, convinced us to try a special reading program, but it required me to be out of the classroom all morning.  I couldn't figure out a sneaky way of doing this, so I decided to take the bull by the horns and explain my situation to the class.
I can still remember getting up in front of the class to deliver my explanation that I had carefully rehearsed with Lori.  It was amazing.  Not only did my classmates applaud and support my choice, but also the conversation turned into an "I can top that" discussion of every challenge and special need in the room.  My friends who needed glasses told me about that; others told me about their sleep problems, broken bones, and family issues. Looking back, I realize that Lori had planned this discussion all along.  She made a difficult conversation reassuring.  More than that, her plan was kind.
By fifth grade I had finally learned to read, but school was still very hard.  That is when Mary Katherine Menikheim came to my rescue.  As important as reading, writing and math skills are, she showed me that a student's greatness also can be measured by research, collaboration, and developing original ideas. She showed this with the special projects she created:  the Passion Project, the Trials, and the Biographies.
This level of support from teachers was not unique to me.  Throughout Middle School, there were always people in the wings nurturing our class.

Students came to my aid as well.  Sometimes I'd get home to find that my homework notes looked indecipherable. They looked like they had been written in Egyptian hieroglyphics.  Fortunately, Bryn and Evi were always happy to fax me the English version.  Meanwhile, Charles was my wingman.  He was always sticking up for me whenever I started to doubt myself.  My class was, and always has been, fantastic.
To tell the truth, that is why I am able to be here today.  Without the support of the teachers and students in my grade, I would not be behind this podium.  This school has given me the confidence to see that my learning difference is just that—a difference, not a defect.
MCDS helped me with my differences, but the truth is this school helps all of us appreciate and make the most of our unique personalities with all of our differences.  The Middle School truly honored and fostered a wide variety of individuals.  And ultimately, what could be more compassionate than that?
---
School was never easy for Dylan, in high school or college. Although, the extra effort required for him to excel in school did not hold him back. In high school he earned good grades and took on many leadership positions. He even overcame poor standardized test scores to get accepted into Middlebury College. He ultimately graduated with high honors there.
A few years after leaving middle school, he was asked to reflect on the qualities of MCDS that helped him succeed. Here is what he said:
Marin Country Day School is an academically rigorous K-8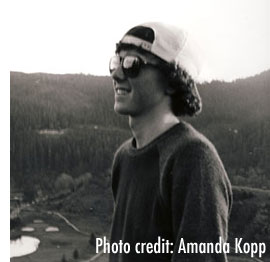 independent school in Marin County. It does not specialize in language-based learning differences. My journey to understand and appreciate my own unique learning style took place within a school that was just learning how to teach children like me. Everyone learned a lot along the way. Today it has a talented department of learning specialists supporting students who need academic remediation and/or accommodations. Although I didn't benefit from many of the advantages that current students enjoy, I believe it was the school's core values of respect, responsibility, and compassion that created the supportive environment which allowed me to stay confident and accept my learning differences—even when I could see no one else at school like me.
Scroll to Top