Educational Apps
By Joshua Jenkins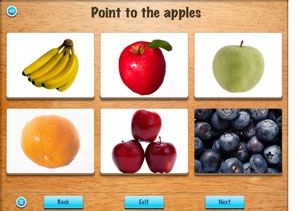 iPads: Tools/Apps that Help the Learning Process
It goes without saying that iPads are cool, and fun to play with. Everyone knows that. But when you first think about educational apps, you likely immediately have the same thought I did: "Nah, those apps are probably like a lot of free educational websites and games. They either go way too over the kids' heads or they're too low or they're not well made. They're just to play with." This is a terrible misunderstanding.
Let's start with the See.Touch.Learn. app. This is a multipurpose app that can make lessons for very low-functioning kids who need help identifying colors or basic everyday objects; it is an app to learn sight words, an app to practice phonemic awareness skills, to practice math facts, or to categorize objects. This app can be whatever you want it to be.  The app itself is free and comes with a series of libraries that you can purchase (most $2.99 or under): anything from sight word libraries, body parts, food, shapes, colors, and action words. Then, the teacher makes custom lessons with as few or as many tasks as he or she desires, and each task may have one choice or multiple choices. There can be more than one correct answer. The teacher may choose for the task to ask the student anything–you can record your own voice with any question you choose. Some lessons that I made for a struggling reader included, "Point to the words that rhyme with red." Or, for another student who had trouble identifying high-frequency words, I made a lesson with questions like, "Choose the word that says 'and,'" where the student chose between two or three words.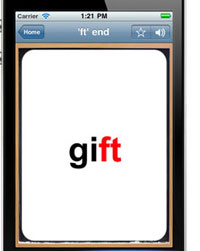 Another fabulous (and free) app for phonics and working with word patterns is Phonics Genius. Teachers may choose from a pre-loaded library of hundreds of word patterns or create a customized list of words for students. I had my students enter customized lists of the specific high-frequency words they needed to work on, and they recorded their own voices reading the words. Then, when they practice these flash cards, they press the sound button to see if they read the word correctly, and it reads the word to them in their own voice.
If struggling readers need help with word patterns, the ABC Writing app ($1.99) is another great tool. It also comes with a huge library of CVC (cat or hit) CVVC  (rain or boat), and CVCe ( kite or bake) word patterns, but this app allows students to trace over the words to practice writing them as well. There is also a feature to hear the word spelled letter-by-letter as well as the whole word read. This app also includes three pen colors and music to help keep the student entertained.
For very low readers who are inevitably struggling writers, the Dragon Dictation app (free) is a terrific solution for recording responses to short-answer questions. This app is a speech-to-text app. If a student is not able to write a short-answer response independently, he or she may open a new note in Dragon and speak his/her answer into the iPad microphone. This allows the teacher to focus on the student's comprehension of the material without forfeiting the rigor of work the student is capable of doing due to the student's writing ability.  This is obviously great for content-based subjects like reading comprehension, science, social studies, and justifying solutions to math problems.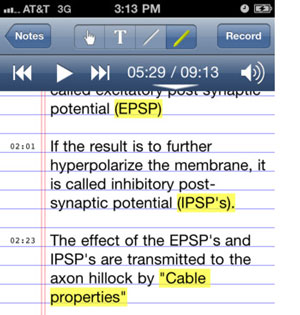 For fluency work, one of my colleagues has been successful having students record themselves reading on iPads using Audio Note  (there's a "lite" version for free).  Based on my own experience and many conversations I have had with parents, we often try to tell our students how they sound when they read: "You sounded choppy here; you paused on this word." The truth is that you could give these comments until you're proverbially or literally blue in the face; but until a child really hears for herself how she sounds, she won't have a clue about what you mean. The change in fluency from a small, repeated reading (for example, reading the same passage over and over) and hearing the progress from slow, choppy reading to smoother, faster reading is not just motivating to students. It allows them to see for themselves that, with practice, their reading and fluency will improve.
Similarly, another excellent fluency tool is Read To Kids ($0.99).  The difference with this app is that students take the role of the narrator and record the entire story, pressing a large bell on the screen every time they begin a new page. Then, an audience or the child can listen to the book. As the audience/child listens, they know to turn the page every time the bell rings. This is exceptional because it conversely allows me to record an above-level story on iPads and then allows the students to independently follow along in the book as they listen–great for classroom learning centers or for a break. When students know they are recording for an audience to listen to later, they put their best foot forward.
Toontastic is a free–and amazingly fun–app that allows students to make their own cartoons, which is a great activity for students who have mastered story elements (characters, setting, conflict, resolution, and dialogue).  The app walks students through each step of the story process, and the students title and publish their cartoons.
In addition to these, there are a number of other apps out there worth trying–not all apps are designed for all kids, but it doesn't hurt to try them out–especially if they're free or inexpensive (like all of these).  There are an abundance of apps that read books to kids as well as many to make customized flash cards or come with pre-made flash cards. iPads are a first-rate tool for reaching students–and even though we've found some great apps, we're just at the tip of the Apple iceberg.
---
Joshua Jenkins is a special education teacher at New Orleans College Prep Charter School.  He is a Teach For America corps member.   He attended Emory University in Atlanta, Georgia.   He holds a B.A. in English and is an aspiring writer.
Scroll to Top