A Tribute to Barbara Bush
The Yale Center for Dyslexia & Creativity together with its Co-Directors, Bennett and Sally Shaywitz, express their profound sorrow on the passing of Barbara Bush. Barbara Bush leaves an extraordinary legacy of caring and working without stop to bring awareness and support for those who have dyslexia.
We were fortunate in having met Mrs. Bush and having the opportunity to listen to her, speak to her and exchange ideas with her. What a joy! Bennett and I were invited to give a special talk in Washington, DC about learning, reading and dyslexia followed by a visit to the Vice-President's residence at 1 Observatory Circle located at the northeast corner of the US Naval Observatory.
I don't think we were quite prepared for Mrs. Bush. Almost as soon as we entered, she began to engage us in a touching conversation about family and reading. It was clear she cared deeply about this topic and had worked to inform herself about it. We learned that this loving mother reserved Saturdays to focus on reading with her children, and to ensure that especially her son Neil was participating in programs to support his dyslexia. How did this all start? From what we were told at the time, Mrs. Bush came to Neil's school to attend what was referred to as Reading Day. As she was observing Neil and the other children in a reading circle in his elementary school classroom, the children were passing a book around, each reading a section. However, when the book came to Neil – he was not able to read it, no matter how hard he tried. This experience put an indelible stamp on his mother and she dove into the topic of reading, to help her son and soon to help all boys and girls who struggle to learn to read. Literacy became a major interest and she established the Barbara Bush Literacy Foundation which is renowned for its good work in multiple areas touching on supporting reading and moving the field forward. We have met its leaders and others associated with the foundation and think very highly of them. What an incredible legacy!
Even more recently, we have been touched by Barbara Bush's magic. The XPRIZE is renowned for attacking major societal challenges and awarding substantial prizes for the most effective and creative response. We have been honored to participate in two of these challenges in the role of expert advisors. Most recently, we participated in a challenge referred to as the Barbara Bush Foundation Adult Literacy XPRIZE. We were greatly impressed by the care and seriousness used to select each component of the methods and measures used to assess the impact of each of the competing entries on improvement in adult reading.
As we listened, we wondered if it would be helpful to provide our fellow XPRIZE advisors up-to-date information about dyslexia. We thought it would be important for them to know about the great progress in our understanding of reading and dyslexia. We emphasized that literacy is defined as the ability to read and write and is typically used in general terms. As a result of the scientific explosion in our understanding of dyslexia, the definition of dyslexia has been made more precise, reflecting 21st century knowledge. The most up-to-date definition of dyslexia as an unexpected difficulty is included in the bipartisan US Senate Resolution 284 passed unanimously in October 2017.
We wanted to share this knowledge with all present and asked if we could present a short introduction to dyslexia the following morning. The XPRIZE staff, always open to new information, readily agreed and we gave a brief talk prior to the start of next day's planned session. The response was remarkable; faces lit up over and over again as we heard expressions, "Oh, that's what our son has, now it makes so much sense;" or "My wife has all these symptoms but we never could put it together before;" and especially powerful for learning that "you can read slowly, but think quickly. That's me. Dyslexia does not mean you are stupid." Here again, Barbara Bush and her foundation are responsible for supporting along with Dollar General this very special challenge that will improve much understanding and more specifically, the lives of so many adults who are dyslexic – but were never diagnosed or helped. Thank you to the XPRIZE, the Barbara Bush Foundation, and Dollar General.
On a personal level, we are indebted to Barbara Bush for seeing and appreciating the impact of reading and struggling to read and of not just feeling sorry but marshalling her energy, her cognitive skills and acting, doing something to improve the situation. Barbara Bush, we are all indebted to you for the extraordinary legacy you have left for all of us.
In honor of Barbara Bush, ACT. ADVOCATE. Advocate for:
Public awareness of dyslexia.
The most up-to-date 21st century definition of dyslexia (UNEXPECTED).
Early screening completed by the teacher, in kindergarten, first and second grade.
Accommodations to level the playing field.
Sally E. Shaywitz, M.D.
The Audrey G. Ratner Professor in Learning Development
Bennett A. Shaywitz, M.D.
The Charles and Helen Schwab Professor of Dyslexia and Learning Development
Co-Directors, Yale Center for Dyslexia & Creativity (www.dyslexia.yale.edu)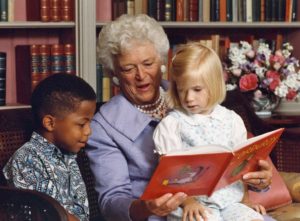 Thank you!
Scroll to Top