Danny Boome, Chef & Founder of The Better Fed Project
by Liz Attebery
"I think of dyslexia as a creative gene, and not as a disadvantage. I am very happy with who I am and I extend that to other people. There can be no embarrassment and no hiding. There can only be taking advantage of this rewiring of our brains." 
Danny Boome, 43, is a professional chef, a host, and guest chef on numerous television programs focusing on food and cooking, and is the founder of The Better Fed Project, a nonprofit organization that promotes healthy eating and fitness for adults and children.  He also teaches classes in New York City for experienced cooks as well as novices and plans to open permanent cooking schools in New York, Montreal, and Switzerland.
While Boome's accomplishments have been many, his path to success has not always been smooth.  As a child in Peterborough, England, he had a short attention span, struggled with reading and mathematics, and found reading aloud a nightmare.  "I was the guy in the reading circle the kids couldn't wait to have read my paragraph," he says, "for they knew it would burn up 20 minutes." To get back at them, he would bring in articles on ice hockey and other subjects of no interest to them and put down the reading book to lecture them at length on those subjects.  "Then the joke was on them," he says.
"I was always an articulate kid, but I couldn't read. I could wax lyrical about Henry VIII, ships, and other topics, and I could hold conversations about anything, so they couldn't understand why I wasn't picking up on anything I read."
Nevertheless, the ridicule of his fellow students left its scars, as did derogatory comments he received from teachers and others during his student days.  "I was always told I'd never amount to anything and that I'd end up on the average side of life," says Boome.  "Isn't that great motivation?"  His parents, whom he describes as "uber supportive," were very aware that he had a problem; they just didn't know what it was.  "I was always an articulate kid, but I couldn't read," he says.  "I could wax lyrical about Henry VIII, ships, and other topics, and I could hold conversations about anything, so they couldn't understand why I wasn't picking up on anything I read.  I'm a TV junkie and I watched movies and news documentaries constantly.  Watching a documentary on the History Channel, I'd get it in 45 minutes, but reading a book was a four-hour project."
When Danny was 11, his father saw a television program on dyslexia and realized that both he and his son had all the identifying characteristics. Tests confirmed his suspicions, and when Danny went to high school, his parents enrolled him in night classes to strengthen his reading, spelling, and handwriting abilities.  He also worked on memory skills, conciseness, and thinking problems through clearly.  The classes helped him complete high school and score well enough on his college entrance examinations, known in England as the GCSEs, to pursue two courses of study:  sports and graphic design.
With a goal of becoming an art director at an advertising agency, Boome studied design and marketing by day, while playing professional ice hockey at night.  He eventually decided that he was too gregarious for a career as a hockey player and threw himself into his design studies, but ended up leaving college early to go into the work force.  "You can do that in England," he says.  "They train you from within, and you gain your qualifications while actually learning, so you don't go into thousands and thousands of dollars in debt to get a college degree, as students do in the U.S., with no guarantee of finding a job afterward."  Boome was able to get a job in short order, first in a bank and later in an ad agency, but found neither to be a good fit.
"I believe you should always try and you should always go for it. I believe you can do anything you want if you put your mind to it."
"I again realized that I didn't know where I was going in life," he says.  "But being Danny Boome and believing you can do anything if you put your mind to it, I went off to try a ski season in Switzerland.  I figured I could be a bar manager or a ski instructor, even though I had never skied before, or I could run a hotel, even though I had never run a hotel."  He ended up as "Danny the Nanny, Au Pair Extraordinaire, looking after three fantastic kids for a lovely family."  The family taught him to ski and he learned to cook on the job.  "That's where I got my passion for food," says Boome.  "I had artistic ability and I understood flavor combinations, so when you put creativity and chaos together, you get amazing meals."  After a year as a nanny and realizing he needed a solid skill to fall back on, Boome embarked on a mission to become a chef.  He enrolled in England's Grange Cookery School and took a foundation course, but left after a month.  "I realized if I spent any more time in the classroom, my head would explode," says Boome, who then took off on a two-year backpacking trip, stopping to learn the native dish of each country he visited along the way.  He got his first "proper job as a chef" at the Asia de Cuba Restaurant, in London's exclusive St. Martins Lane Hotel.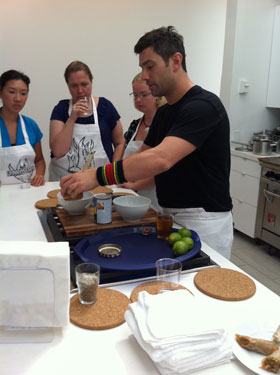 Boome had a successful run there, until he accidentally put a knife through his hand.  But the accident was a blessing in disguise, for while recuperating, he met a talent agent at a party who offered him a job hosting a show called Wild and Fresh, a UKTV Food production that featured Boome traveling through Canada to find the best native dishes in each province.  The program was a hit and kicked off a successful television career that in 2007 brought him to the United States, where he lives in New York and hosts programs on The Food Network, ABC, and other stations.
When asked the key to his success, Boome credits his parents with raising him to be a confident person, as are they, and providing the academic and emotional support he needed to succeed.  "My parents are awesome," he says, "and maybe too awesome at times.  They were so positive that it made my sister and me think we were indestructible."   Boome also refuses to use the words "never" and "don't."  "I believe you should always try and you should always go for it," he says.  "I believe you can do anything you want if you put your mind to it."
Boome does, however, bemoan the lack of educational support provided to dyslexic children in North America, which he says treats dyslexia as a "disadvantage and a weakness," as opposed to in Europe, where children are told to "use it and embrace it."  He feels parents and the educational system are ashamed of dyslexia, when they should be spending time to understand it.  "I think of dyslexia as a creative gene, and not as a disadvantage," says Boome.  "I am very happy with who I am and I extend that to other people, " he says.  "There can be no embarrassment and no hiding. There can only be taking advantage of this rewiring of our brains."
Scroll to Top