Jay Leno, Comedian & Television Personality
by Kathy Crockett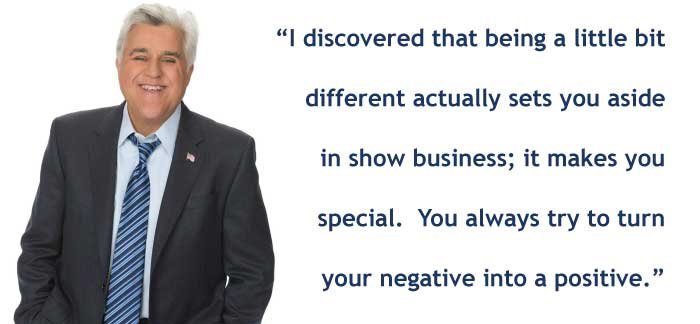 Jay Leno has been making humor out of headlines and everyday life since he was a kid. Even after his last night as the host of The Tonight Show with Jay Leno, a job he held for more than two decades, Leno plans to continue to perform in comedy venues across the country. He's no stranger to hard work and dedication to his craft and his passions. That hard work, mixed in with perseverance, humor, and a positive attitude, is the recipe for his success in show business and in overcoming his dyslexia.
While some students would say they struggled in school as though it were a hardship, Jay never minded working harder. "Everybody has something," he says. "My mother would always say to me, 'You're just going to have to work a little harder than the other kids to get exactly the same thing.'And that's an approach that I've always used in my life. I'm a great believer in low self-esteem. So consequently, if you don't think you're the smartest person in the room and you think you're going to have to work a little harder, and put a little more time into it, to get what everybody else does, you can actually do quite well. And that's been my approach."
"If you don't think you're the smartest person in the room and you think you're going to have to work a little harder, and put a little more time into it, to get what everybody else does, you can actually do quite well."
Jay Leno grew up in Andover, Massachusetts, in the 1950's and '60's, with a stern but dedicated mother who emigrated from Scotland at a young age, and a father, a loud Italian with an equally boisterous large family.  His mother, who had very little in the way of a formal education, helped him with his schoolwork.  "My mom was a smart lady, but certainly not a well-educated lady, so she put a lot of effort into education," he says. "But when you're dyslexic and your mother has a Scottish accent and she's trying to teach you fourth-grade French, there's nothing funnier. It would come out sounding nothing like French. Speaking French with a Scottish accent—it's hilarious."
His father's large family provided plenty of opportunities to work the crowd and to glean potential fodder for his future.  However, in his early years, Jay wasn't thinking about being a comedian; he just wanted to hang out with the adults.  He credits his supportive teachers for planting the seed for his future. "I had wonderful teachers. I would not be in show business without them.  I remember Mrs. Hawke, my English teacher, who said to me, 'You know, you're always telling jokes in the hall, why don't you write some of those stories down and maybe you can tell them to the class?' It would have never occurred to me to do that, because that just seemed like homework.  And for the first time in my life, homework was actually enjoyable. I'd write something down, and then cross it out, saying now that doesn't sound right, and then write it again. And then she'd have me stand up in front of the class and have me read these stories and I realize now that they weren't very good, but at the time I got a few laughs and she said, 'Maybe you could be a comedy writer or something like that.'  It was an eye-opener. It was something I've always been grateful for."
Jay attended Emerson College, and began traveling from Boston to New York City for auditions.  If he hadn't already learned the art—and the benefits—of perseverance, he learned the lesson during these trips.  "I remember when I would go to the comedy clubs to audition and there'd be this huge line at the Improv to try out—singers, dancers, and comedians—and I remember getting there once at 11 o'clock in the morning and there was already a line for auditions that started at 8 o'clock at night, and there were 60 people in front of me.  And it would be around an hour after I got in line that someone would say, 'Screw this,' and leave.  And I'd go, 'Oh, good' and move up.  I got in because I just stayed there.  I focused on that.  I'd wait for the other people to get tired, get hungry, to have to go to the bathroom, to have to go somewhere, and they would drop out, and I would move up, and that always worked.  To this day, it still does.  You just hang in there."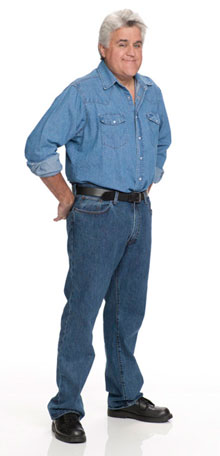 And hang in there he did, shaping his career according to his strengths.  "I realized that I was not going to be an accountant or a banker, and so what am I good at?  Well, I'm pretty good at talking and telling silly stories.  I had always assumed I'd go into sales like my dad because you have to do things to amuse customers, but I took it to the extreme.  But that's what it is:  you find out what your strengths are and what your weaknesses are and you play to your strengths."
Most obviously, Jay's strengths landed him with his role as host of The Tonight Show with Jay Leno, as well as a stand-up comedian.  On March 2, 1977, Jay Leno made his first appearance on The Tonight Show Starring Johnny Carson.  Ten years later, he was brought on as the permanent guest host, and in 1992, he took over the reins of The Tonight Show from Carson.  Even with his television success, Leno hasn't left his roots as a stand-up comedian.  He still does about 150 shows a year.
Jay has made appearances in sitcoms throughout his career, including Welcome Back, Kotter, and movies like American Hot Wax, The Flintstones, and Stuck on You, and lent his voice to the animated movies Cars, Ice Age: The Meltdown, and more.  He has also turned his storytelling ability into a memoir, Leading with My Chin, and two children's books, How to Be the Funniest Kid in the Whole Wide World (or Just in Your Class) and If Roast Beef Could Fly.  The latter was crafted from a childhood memory of a family gathering.  It wasn't funny at the time, but it turned into a humorous story for kids.
Jay Leno doesn't seem to have an "off switch," continually thinking of his opening monologue as he does interviews, such as this one with YCDC, talks with staff, and goes about his daily routine.  "We have to do a monologue every single night," he explains.  "You've got to write 14 minutes of jokes, whether there's 9/11, whether there's a plane crash, or a shooting.  You've got to do 14 minutes of jokes, so that's what you do—you do that every day—and if you can focus on that, you'll be okay.  That's what works for me."
How does he deal with the workload and pressure of getting a monologue crafted five days a week?  "I always try to compartmentalize," Leno says.  "I used to practice that by writing a letter and at the same time reciting the Pledge of Allegiance.  So you have your hand doing something like writing and that helps you focus a little more.  When you're in a club working and you see a guy over here talking or something, you're doing your act but, with the other side of your brain, you're thinking, 'What can I say about that guy?'  I will try to write my opening monologue while working on other things, talking to people.  It doesn't always work.  It's an interesting process because with what I do, there are just a lot of people talking at you at the same time and you have to pretend to be listening to most of them."
While Jay Leno says that dyslexia doesn't affect him much, it seems to be because he naturally leans toward accommodations that work for him.  "I tend to use cue cards rather than a teleprompter, because with the cue cards, you can put the whole phrase on the card, whereas the teleprompters go only two or three words at a time, but when I see a cue card, I see the whole thing all at once and I will sometimes paraphrase.  When you read the teleprompter, you sort of have to do it exactly and I get a little screwed up on that, so they're a little awkward; but cue cards work because you can see the whole thing.  I'll put it in my own words."
He realizes he's much more a visual thinker, so instead of reading steps 1–10 to put something together, he'll get it much quicker if he watches a video of it.  "I always find that it's easier for me to follow the DVD for directions than it is to read, 'Assemble Part A into Tab B.'  Well, I get all screwed up, but if I watch an instructional video, then I have no problem at all."
Whether it's for his opening monologues, his prominent chin, or his down-to-earth nature, Jay Leno stands out in Hollywood.  He also emerges as a role model to the dyslexic community.  Who would have thought that a funny kid from New England who struggled with math and foreign languages, and had to work incredibly hard to keep up in school, would become so successful?   It turns out that the recipe for success, at least for him, was not so predictable.  "We had a girl in our town who was unbelievably beautiful—just stunning," Leno explains.  "She went out to Hollywood to become famous, and I went out a few years after her.  When she got there, she was just another pretty girl.  I discovered that being a little bit different actually sets you aside in show business; it makes you special.  You always try to turn your negative into a positive."
Scroll to Top