Steve Mariotti, Founder & Former President of the Network for Teaching Entrepreneurship
By Liz Attebery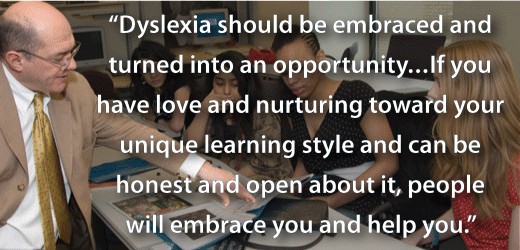 A leading expert in youth entrepreneurship education, Steve Mariotti founded the Network for Teaching Entrepreneurship to provide "a pathway to prosperity" for young people from low-income communities. He has received numerous awards for entrepreneurship and co-authored eight books on the subject. In 1988, he was named America's Top High School Business Teacher and Best Economics Teacher of the Year in New York State.
---
As a child growing up in Michigan, Steve Mariotti dreamed of becoming an entrepreneur, and by age twenty-one, he had operated seven businesses. Mariotti now shares his dreams with disadvantaged youth through his nonprofit Network for Teaching Entrepreneurship (NFTE), which educates junior high and high school-age students in the fundamentals of owning their own businesses. The program enrolls about 60,000 students in twenty-two states and twelve countries.

Mariotti, who dedicates over eighty hours a week to NFTE, learned the importance of persistence and hard work at an early age, when he was diagnosed with dyslexia. He struggled with reading, mispronounced similar sounds, and was unable to alphabetize. His parents, both teachers, sprang into action, working with him every day for three years to change reading from a challenge to a pleasure. "Once I could distinguish sounds and manage sentences, I became an obsessive reader, and I now read sixty books a year," says Mariotti. "And my difficulties with words were made up for by my being off the charts in math. I had a gift for math as a child. I could do in my head the multiplication of three numbers by any three numbers and understood basic calculus."
Bolstered by extra help from his parents, Mariotti strengthened his testing skills, which later paved the way for his acceptance at the University of Michigan, where he thrived. After graduating with a bachelor's degree in business economics and an M.B.A., Mariotti worked as a treasury analyst for Ford Motor Company for a few years before leaving corporate America to start an import-export business in New York.
But Mariotti's entrepreneurial career took a detour one day in 1981, when he was mugged by three teenagers. He became fearful, had recurring flashbacks, and obsessed over the question of why the young men would attack him for only $10, when they could make much more money operating a business. Mariotti eventually faced his fears head-on and became a special-education teacher in Brooklyn. He soon conquered his anxieties, but taming his students, many of whom had severe learning problems, took more time. By sharing with them the difficulties he had experienced as a dyslexic, Mariotti was able to bond with the students. He also sparked their interest in learning by teaching them about business, markets, and how to acquire wealth—topics that youths in low-income communities seldom, if ever, hear.
Mariotti later moved to a vocational high school in the Bronx, where he expanded his business program to include character development, self-esteem, and the Golden Rule, in addition to English, math, reading, and writing. Students' learning and behavioral skills improved dramatically, and Mariotti received awards on the state and national levels for his accomplishments. The program became the prototype for NFTE, which Mariotti established in 1987. Mariotti believes the business formation rate of NFTE's 300,000 graduates is over six percent, much higher than the national average. A 2008 survey by BusinessWeek magazine listed two program graduates among America's top twenty-five young entrepreneurs. "We even outperformed the Ivy League," says Mariotti. "That was hard to do."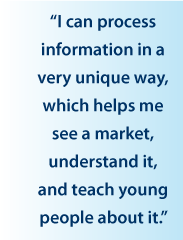 Mariotti credits much of his success to "the gifts" he received by having dyslexia. The first, he said, is humility. "When you have a situation where you're feeling anxiety and other kids seem to be having no problem, you learn humility at a young age, and it's a blessing," he says. "I also learned to work in teams, and that in essence is the core of entrepreneurship and building a business." Being able to ask questions when he doesn't understand something, while others may seem to understand it because they can read about it with no problem, is another lesson dyslexia taught him. "It's all about recognizing that you don't know something," he says.
Mariotti is also able to view things in the bigger picture and to think nonsequentially, which he says is what markets are all about. "I can process information in a very unique way, which helps me see a market, understand it, and teach young people about it."
"All of this is positive," he says. "Dyslexia should be embraced and turned into an opportunity to work with people and understand people better. If you have love and nurturing toward your unique learning style and can be honest and open about it, people will embrace you and help you."
Scroll to Top