Daymond John, Entrepreneur
By Sue Glader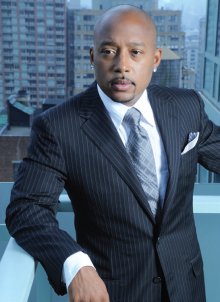 These days, Daymond John might be best known as one of the five savvy business executives (known as the "sharks") who quickly mull over whether to invest their own money in the business ideas that budding entrepreneurs anxiously illustrate on the ABC hit television show Shark Tank. But it was his entrepreneurial instincts and expertise that launched his influential clothing line FUBU and built his stellar reputation, with awards such as Ernst & Young's New York Entrepreneur of the Year and Crain's Business of New York Under Forty Award. This success may not have been possible if John had let his difficulty with dyslexia define him. Instead, he used his strengths to get ahead. John has known since he was a young boy in Hollis, Queens, New York, exactly where his mastery lies: the intersection of creative and analytical thinking. These skills led him in the early 1990s to define the urban apparel market with a company he named FUBU (For Us By Us). It all started with John's sewing simple tie-top hats out of his childhood home for $10 apiece, gained momentum when neighborhood friend and hip-hop singer LL Cool J wore a FUBU hat in a Gap commercial, and took off when John managed to broker a distribution deal with Samsung. FUBU enjoyed annual sales of $350 million in 1998 and launched John as a savvy entrepreneur, branding expert, and "Godfather of Urban Fashion."
Before he became the influential entrepreneur that he is today, John had to get through school. "In math and science, I would excel," says John. "I could look at something quickly and get high grades, A's and B's." Yet reading and spelling were another story. His father's frustration turned to yelling and worse when John couldn't get certain words, no matter how often the two would study them. "Literally, I couldn't spell the word 'because' for 4 or 5 years. I wouldn't know how to spell my middle name, Garfield. When I read a book, I got tired." He was a C or D student in language arts, even though he spent far more time working on it.
But when his struggles in school finally brought him to see a professional, the diagnosis of a learning/ behavioral issue didn't sit well with his mother. "My mother didn't believe it," he remembers. "She just said I wasn't applying myself. She felt I was brilliant, because she would work with me on a daily basis and see my abilities."
John's point of view in school was simple. He knew he wasn't good at reading, but math and science and everything else came easily. So he worked hard to be exceptional "and look like a superstar" where he could, and was content to squeak by when it came to reading and writing. The key, it seems, was that he never let his one area of weakness define his whole self.
"My mother always said, 'It takes the same energy to think small as it does to think big,'" John says. "So dream big and think bigger."
John did think analytically about what kind of student he was. "You always have to know where you're weak and where you're strong," John explains, in business and in life. So for high school, he chose a program where his challenges wouldn't hurt him.
The answer was Bayside High School's co-op program, where students worked full-time one week and went to school the next. John's time working at First Boston enabled him to make money, spend time in the city putting his finger on the pulse of everything cool, gain valuable work experience, all while cutting his school work in half.
"I have this attitude about any challenges you have in life," John says. "You highlight it, address it, and then find out how to work around it. Figure out how to live with it."
"I always thought I was a genius," he says today, without a hint of pretense and a track record to back up this statement.
Ten years ago, when texting and emails started being an accepted way of communicating on a daily basis, John came face-to-face with the impact his terrible spelling had on how people perceived him. Then when he went through media training and was introduced to the scrolling visual text of a teleprompter, he couldn't master it. Suddenly the 30-year-old highly successful business executive began questioning himself. What was the problem, he wondered?
It all came together when a friend pointed out that whenever the navigation system in a car would say turn left, John would turn right. Or when looking for a hotel room 118, and the sign would say Rooms 115–120 to the right, John would always go to the left and not realize his error until the end of the hallway. John combined those data points with the issues from his childhood and the amorphous "learning issue" diagnosis and it all made sense: dyslexia.
Reading today still takes John far longer than someone who doesn't struggle with dyslexia, and he will often pass off documents to one of his colleagues for confirmation. "Everyone knows my situation. I say, 'Break this down for me and let me know if I'm reading this factually.'"
Despite being keenly aware of his dyslexia, Daymond John's drive and determination to effectively translate his insights into entrepreneurship, marketing and branding have led him to be an in-demand motivational speaker as well as the author of two successful books, Display of Power and The Brand Within. For a kid who struggled so much with the written word, this is something of which he is very proud. "My mother always said, 'It takes the same energy to think small as it does to think big,'" John says. "So dream big and think bigger."
Scroll to Top