Whoopi Goldberg, Academy Award-Winning Actress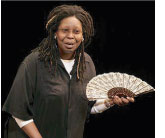 She's an Academy Award-winning actress, comedian, radio host, and television personality.  She is one of the only ten people to win an Emmy, a Grammy, an Oscar, and a Tony Award; and is the first woman to be honored with the prestigious Mark Twain Prize for American Humor.  In addition to her success on stage and screen, Whoopi has written three books, two of which are for children, and is a UNICEF International Goodwill Ambassador.  Seeing her now, speaking for HIV/AIDS causes for UNICEF, sharing her quick, unique, and witty sense of humor on The View, it's hard to imagine that this successful woman once struggled in school, hearing words such as "dumb" and "stupid" directed at her.
She didn't know it then, but there was a reason for her feeling as if she wasn't grasping anything taught in the classroom.  Whoopi has dyslexia, but during her early years, she didn't have a diagnosis, only her self-given diagnosis as abnormally slow.  "You don't want to be retarded all your life," she tells Laura Randolph of Ebony magazine in a 1991 article.  "I was retarded for a good part of mine, according to all the paperwork, and I just couldn't handle it."  But she wasn't "retarded," she was extraordinarily gifted, and it is her acting talent, and her dream of becoming an actress, that kept her from giving up during difficult years of drug use, divorce, and learning to raise a child on virtually no money—all before she turned 20.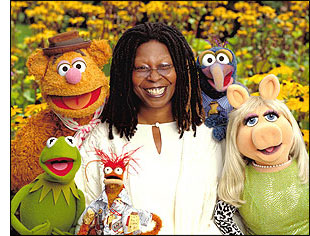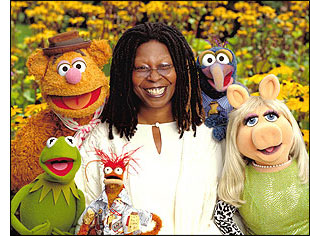 The good news for Whoopi is that while those in school may have called her "dumb," her mother always told her that she could be anything she wanted.  "I knew I wasn't stupid, and I knew I wasn't dumb.  My mother told me that," she says in an interview with the Academy of Achievement, into which she was inducted in 1994. Whoopi also believes that she grew up in an era where no one thought to tell her that she couldn't achieve her dreams, so she grew up wanting to become an actress, and an actress she would become.
Her big break came when Steven Spielberg saw her in a comedy show and selected her to star in the movie The Color Purple, based on the powerful book by Alice Walker.  She won her first Golden Globe Award and her first Oscar nomination for that role.  Other successes soon followed—a Grammy Award for Best Comedy Recording Whoopi Goldberg: Direct from Broadway; an Academy Award for Best Supporting Actress in the movie Ghost (and another Golden Globe); a Tony for producing 2002's Best Musical, Thoroughly Modern Millie; and a Special Emmy Award for her performance in seven Comic Relief shows.
Whoopi Goldberg continues to have success on stage and screen.  Her work in hosting Comic Relief was just the start of her work with charitable causes, especially in the fight against poverty and homelessness, and HIV/AIDS. She also flexes other aspects of her creative and brilliant mind as an author of two children's books, Whoopi's Big Book of Manners and Alice; and talks current events and politics with her co-hosts on The View, an Emmy award-winning talk show on ABC.
LINKS:
The Academy of Achievement
Profile, biography, and interview with Whoopi Goldberg
Scroll to Top